Is your sales model suitable for a regional bundling of logistics? Then take advantage of our central European location.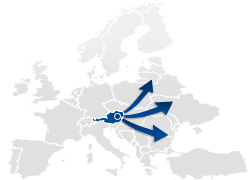 The influence of specific product portfolios, customer bases, demands on the delivery service level, and local legal frameworks on regional distribution models is particularly strong. Together we can clarify your options and possibilities in terms of regional distribution. We are happy to organize a workshop with you and our experts and to make our know-how available for your decision-maling process - free of charge and without obligation.
We think beyond the region, and act internationally
We also assist more and more customers (who do not want to forgo the usual level of service for their international business) in their international development, and secure the logistics to their international distributors. We currently regularly deliver to the following countries:
Australia
The Baltics (Estonia, Latvia, Lithuania)
Chile
France
Israel
Saudi Arabia
Singapore
Turkey
The Ukraine
You are looking for a detailed offer?